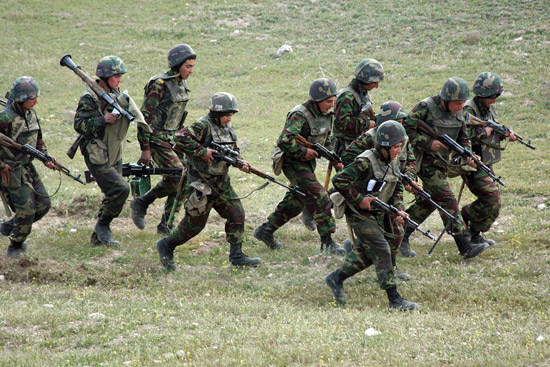 Today is Army Day in Armenia. On Monday Jan. 25 President Serge Sarkisian was giving out medals to select veterans in their honor during an apparent played-down ceremony–who picked them out is anyone's guess.
So government is closed for the day as well as various companies and undoubtedly, NGOs. Remarkably, the media seems to be working, naturally a good thing.  On Sundays newspaper offices are all closed, which is odd since there is always news to report, day and night.
Anyway, a friend yesterday pointed out to me that on Army Day Armenians should be ever vigilant, rather than be at home lying around and drinking coffee or throwing back vodka shots throughout the day. After all, Armenia is still technically at war with Azerbaijan, despite the ceasefire that has been in effect since 1994. So long as no peace treaty is signed, there shouldn't be any call for celebrating the past achievements of the Armenian army with an official day off from work–it is even satirical, borderline surreal.
Indeed, the soldiers of Armenia proudly defending  their nation should be commended and respected. Many young men flee Armenia when they turn 18 so they won't be conscripted, claiming political asylum or making up cockamamie excuses not to stay and serve. Some even live in Armenia illegally as non-citizens, having moved here from another former Soviet country to escape military service there.
I am always proud to hear of someone choosing to serve bravely, unafraid of any hardships they may encounter either at the hands of despicable sergeants or poor living conditions, depending on the location. Men must serve two-year terms, although they may be extended another year due to a drought of able bodies, since less babies were born during the war. You can always pay a $5,000 "fee" to be exempt from service, or you can essentially buy yourself an easy position, like a desk job to avoid the front lines, far away from random crossfire.
Let's hear it for the army, but in the meantime keep astutely alert. We're not out of the woods yet.
Check out a great photostory about Nagorno-Karabagh Republic's armed forces on Hetq Online.